Reliable
"Comparable to DXA"
Bindex® is the world's first pocket-sized, research-proven tool for osteoporosis screening and diagnostics.
About 75% of osteoporotic patients are left undiagnosed and untreated, due to the fact that diagnostics are performed only at secondary care. Bindex® was created to cover this early diagnosis gap; it has been validated according to international guidelines, and its measurements are thus comparable to standard diagnostic procedures (axial DXA, X-ray device).
Bindex® method offers accurate results, which are comparable to DXA, and possesses a 90% accuracy in detecting osteoporosis or an increased risk for the disease. It can replace nearly 70% of DXA scans for patients under osteoporosis suspicion. Only 30% of patients will require a DXA scan.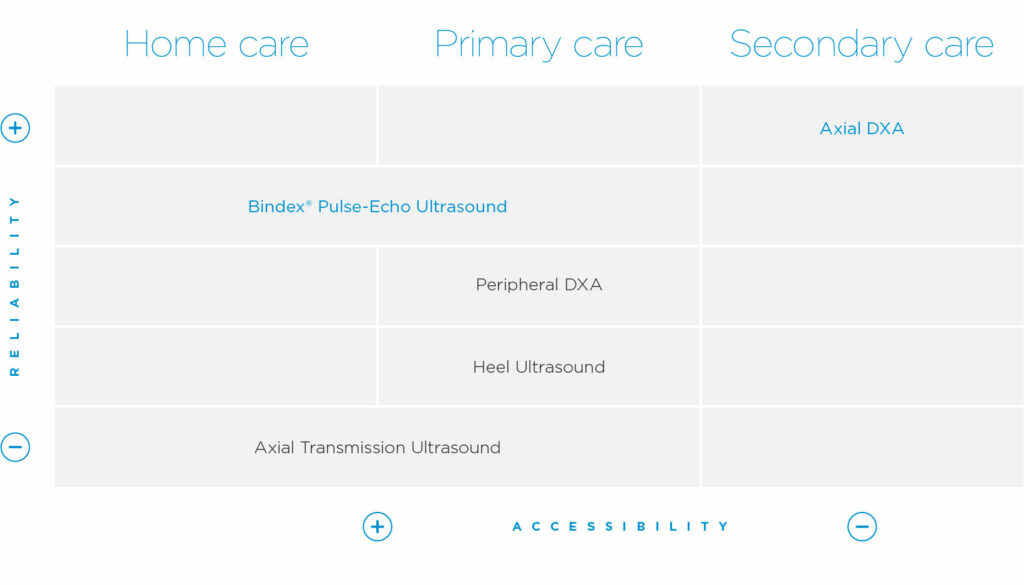 Figure: Only Bindex® and axial DXA can be used for evidence based treatment decisions. All other peripheral techniques compare the measurement results to the young women reference values measured with same technique (T-score) and therefore these techniques are not comparable to axial DXA. With other ultrasound techniques about 60-70% of patients under the osteoporosis suspicion need additional investigation with DXA.
Bindex® is – in addition to DXA devices – the only device in the market whose measurements can be used in evidence based osteoporosis treatment decisions with the backing of international guidelines (including the Finnish Current Care Guidelines). The Bindex® method does not cause ionizing radiation dose. It can therefore be used without a physician referral, unlike X-ray-based methods.
Bindex® is used for measuring the cortical thickness of tibia. The results, combined with other patient data, are used to estimate the hip region's bone mineral density. Bone mineral density value (g/cm2) is normally only received via the large DXA devices used in hospitals
The Bindex® method has been validated with DXA in clinical studies and 90% sensitivity and specificity thresholds have been determined; physicians may therefore use Bindex® results as reliable criteria in treatment.
The sensitivity and specificity thresholds mean that 90% of osteoporotic patients will receive either yellow or red result during a Bindex® measurement, whereas 90% of non-osteoporotic patients will receive either green or yellow result. Only 30% of patients under osteoporosis suspicion will receive yellow result and therefore need additional investigations with DXA.
Bindex®'s 90% accuracy is a substantial result in comparison to any medical measurement method. It also follows the International Society for Clinical Densitometry's (ISCD) guidelines. Bindex is a Class IIa medical device with a CE marking, and with an FDA clearence.